This tag/meme originate from this guy wan. He got nothing to do during Chinese New Year. He said he got no kampong to balik also so he was left in KL to rod and grow mushroom. He sked to play mahjong with me ledi (always turn mahjong table wan)...so what happened was he actually sit down at the corner and slowly 'kopek' the mandrin oranges and made an artwork out of it. This brilliant chap he eat full nothing to do and started this tag. The tag got further and spread until here ledi. Ahuei tagged me. Also a brilliant charming lady. Aisey...1st time meeting this leng lui Huei I kena tag ledi.

They made porky artwork wor!!..I'm not going to make porky artwork. What i'm going to do is i'm going to make an artwork of the fler who started this. Chun anot? Hehehehe ... Here goes:-

Firstly..simply just pick one mandrin orange you like.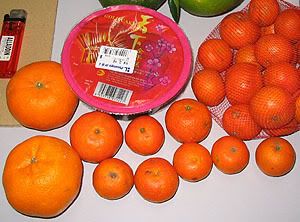 Next slow torture that fler by peeling his head. Of course you must add his eyes and his smiling face. He seem to be enjoying it so much!! Kesian him oso la..please use a blunt object to poke his eyes and mouth, okay? Alternatively you can also use the seeds.







Next hor, make his hands big big if he is a fat person. Fat is cute ma. Rite anot? Example lidis la. If you like skinny wan oso can geh.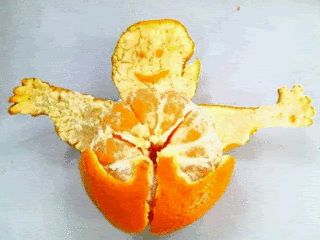 Then hor.. you must remember to open up his sexy legs wide wide. Long time bungkus inside there sure hot wan ma. All the way from China wor!! Fai tit gip him some fresh air to breath!!If not his 2 bijik too riped ledi not sweet wan! kekeke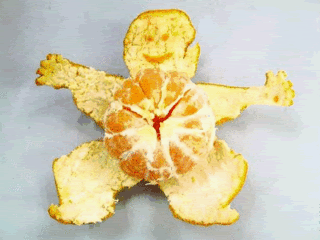 Then he started shouting ....woi!!! since you undress me naked, you might as well take off everything la. (wuah!!! this oren 'veli song' ledi!!!!!!). Who want to torture him somemore? You can add in his kukuciao!!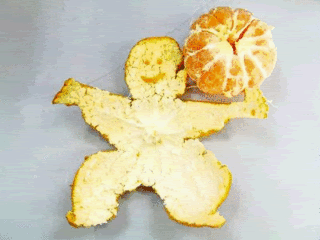 Wuahahahahaha....I just did a simple one.

Aiseyman!! got to tag 3 person la. Letme see who ar..!! Got it! Let me introduce you to:-

1) Rabbit - I called her Lehbit wan. I know she very creative geh. Do drop by to her blog. She veli cute wan leh and leng lui somemore. Muka merah merah liddat! kekeke.

2) Tonixe- This leng chai like food alot wan. Willing to travel far far just for a bowl of assam laksa. Since he like food i pass this tag to him. Do visit his blog for all the nice food you'll find.

3)Conniexan - This is another leng lui muka macam Chermaine Sheh wan. Her blog macam macam ada wan. Want to see Journey to the West anot? No? Malaysian version one wor? Do visit her blog also la!!



Instructions:
First u goan get some mandarin orange mia skin/peels then u make funny funny object any object oso can wan. (preferably those object related to CNY one la!) with it and then u take piktures and u post the piktures in your blog then u tag anoder 3 more flers ok? Easy what!!!

Ok, Ahhuei..kao tim your tag! Sau Kung! I wan to go play mahjong ledi.!! 3 kakis mahjong anyone? kekeke