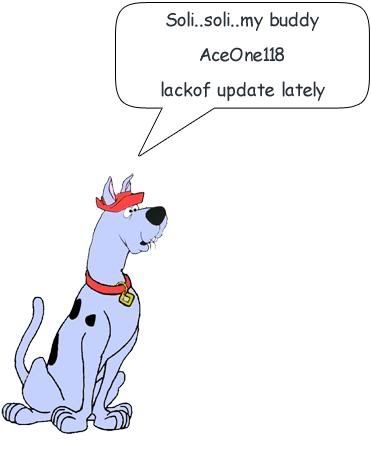 Kekeke...sorry guys for lack of update. Lately I'm busy with the bank running up and down submitting all the papers they needed to approve my loan. Woah...to get a bank loan is not that easy. The bank wants this... they wants that ...fark la!!! They said can approved it in 48 hours, nabeh it has been 2 weeks ledi. KNN!!! At last i went and sign the dotted lines selling my butt to the bank as collateral. Muahahaha..





If you have noticed that there is a new banner on top of my blog, credits to leng lui Nastasshea for doing the header for me. I like it nice and simple. Many tenkiu lu for spending time doing it. She is on medical leave now...fever wor!!! I hope you are alright now Nesh! **wink-wink**

**************************************************************************************

Here is a short stori la...since you all missed my hamsap post! I received sms and e-mails asking me to update! wakakaka!!!! Actually hor my blog where got hamsap jek? Hamsap meh??




Dis stori is liddis wan...One day hor ...there is a young chun chick..(to protek her identity hor, lets name her Ahlian) she has a date with her boyfriend la (dunno where they are going oso, she dowan tell me) and she is expecting him to come to her house and pick her up go dating wan. She is so sexcited that this is her first date and she forgot to put on her bra!!




Ding-dong!! the door bell rang. This Ahlian came running downstairs for her first date with dis see-through blouse on with no bra. Her grandmother who was sitting in the living hall noticed it and telling her not to dare go out liddat.





Ahlian tells her granny ...aiyo..ah porpor ...loosen up will ya...now modern times ledi leh..now 2007 ledi !! not like your old times all 'bungkus' up!!! Nowadays hor..the new trend lidat wan...you got to show your "rose buds" all the mat sallehs are doing it. Soon after Ahlian went out with her date la.




The next day....Ahlian came downstairs to the living hall and saw her granny sitting there with no top on. Alamak!! ahporpor!! what are you doing jek? why are you not wearing anything? she asked. She explained to ahporpor that she has friends coming over to the house and it is just not appropriate for her to do that.



Ahporpor looked at Ahlian and said,' loosen up sweetie!!! now 2007 ledi..modern times ma...if you can show your "rose buds" then I can display my "hanging basket" , can anot jek????

Ahlian:






Hehehe....