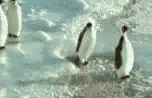 Some good friends came out together-gather for a drink and supper for tok kok session . It was very hot nowadays. Beh tahan staying home. Ahbeng, Ahnel,Ahseng and Ah linpeh all of them heading to the nearest mamak stall already. During the tok kok session, ah lin peh suddenly ask them these questions:-

Ahlin peh: Oi Ahseng, if you were on a date, having supper with a nice young lady, how would you tell her that you have to go to the bathroom?

Ahseng: Hmmm..I will say I have to go piss!

Ahlinpeh: Har! that would be very rude and impolite to say liddat wan. What about you ahnel, how would you say it?

Ahnel: Hmmm... I will say I'm sorry, but I really need to go to the bathroom. I'll be right back.

Ahlinpeh: ahhar! that's better!! but it is still not very nice to say the word bathroom at the table.
what about you ahbeng, are you able to use your intelligence for once and show us your manners?

Ahbeng: Aiyo! Easy oni ma! Say liddis la....Darling, may I please be excused for a moment, I have to shake hands with a very dear friend of mine, whom I hope you will get to meet after supper. Apa maciam? liddis can ar?



Ahlinpeh, ahnel and ahseng all 'tergolek' !!!!!! wakakaka