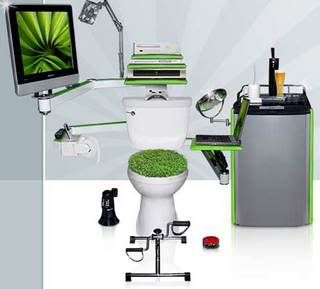 I have found an awesome picture where you can start blogging comfortably even you are in the toilet. This advance modern technology toilet has all the latest tools and printer for you to use.
Is this the most amazing toilet you have ever seen? Considering that the average person spends 11,862 hours in the bathroom in a lifetime, which adds up to one year, four months and five days, don't you deserve a quality toilet experience? Wakakakaka!!

This toilet of your dreams comes fully loaded with the following luxury enhancements:

Philips™ 20-inch LCD TV and Star Wars DVD
Xbox™ 360 gaming system
Philips™ DVD player
Gateway® EMachine™ laptop computer with fully articulated robot arm
iPod™ with stereo docking station equipped with toilet paper dispenser
Roto-Rooter "emergency" button
Tivo™ recorder
Avanti™ refrigerator with beer tap, stocked with drinks and snacks
Magazine rack and subscriptions to Sports Illustrated, ESPN and GQ
Bike pedal exerciser
Cup warmer / cooler

So who want to buy this toilet? Installation provided free!