AceOne118 would like to wish all my friends and readers a very Happy Chinese New Year 2009. It is the year of the Ox. Lunar New Year or the Spring is one of the traditional Chinese holidays. It is celebrated on the first day of the month of the Chinese calender.

A reunion dinner is held on Chinese New Year's Eve where members of the family, near and far get together for celebrations. Traditionally, red packets are passed out during the Chinese New Year's celebration. Hope you'll get lots of it.






Chinese New Year is celebrated with firecrackers (which is ban in Malaysia by the goverment now). Who want to be a "yee ng chai" go and report to the authorities and get 10% of the saman? Wait I come and burnt 9 your house!! Typically the game of mahjong is also played besides the Black Jack and 3 cards (Sam Cheong). Who want to play mahjong? Come..come..!!!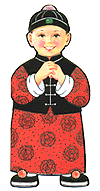 AceOne118 wishing you all 'Kung Hei Fatt Choy' (Prosperity). Every day also yat yat fatt!! , 'San Tai Kin Hong' (Good Health), 'Sang Yee Hing Loong' , (Good Business) Man Si Yue Yi' (Smooth Sailing) in whatever you do. 'Sam Siong Si Sing', 'Po Po Ko Sing' (Promotion), Enjoy your holidays.

Wokeh, kau tim! Sau kung jor la wei!!!!