It is another holiday! It is Thaipusam day. Thaipusam or Thai Poosam Kavady is a Hindu festival celebrated mostly by the Tamil community on the full moon in the Tamil month. Thaipusam refers to a star that is at its highest point during the festival. The festival commemorates both the birthday of Lord Muruga (also Subramaniam), the youngest son of Shiva and Parvati. and the occasion when Parvati gave Murugan a vel (lance) so he could vanquish the evil demon Soorapadman.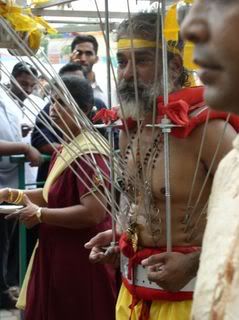 Devotee offers to carry the kavadi, carries a pail of milk and some even insert spears, fishing hooks into their skins. After the ceremony is over, he gets so much intoxicated with love of God that his inner spiritual chamber is opened. This too ultimately leads to Para Bhakti -Supreme devotion.




Hooray-Hooray!!! but nope I'm not going to Batu Caves to smash coconuts or carry kavadi. If you're interested to go to Batu Caves, there are train transport offered by KTM. I'm going to relax and doesn't want to think of work!







Thaipusam Lord Murugan Kavadi Devotee